RENÉE LAPOINTE
MEZZO-SOPRANO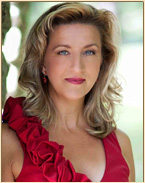 Among her many achievements, Quebec-born mezzo-soprano Renée Lapointe has won the Raoul-Jobin Prize in 1990 and, the Stage Prize in 1993, both awarded by the Fondation de l'Opéra de Québec.
Besides her frequent appearances in recitals and oratorios, in Canada and abroad, Renée Lapointe has performed the title role of CARMEN in Bizet's Carmen, the roles of CHARLOTTE (Werther, Massenet), MÉLISANDE (Pelléas et Mélisande, Debussy), BRADAMANTE (Alcina, Händel), HERMIA (A Midsummer Night's Dream, Britten), PAULINE (La Dame de Pique, Tchaikovsky), GIANNETTA (L'Elisir d'Amore, Donizetti), FLORA (La Traviata, Verdi).
In concert, Renée Lapointe has become known for her inspired performances of Händel's Messiah, Mozart's Requiem, Beethoven's 9th Symphony, Verdi's Requiem, Berlioz' Les Nuits d'été, and of sacred works by Bach, Mozart, Haydn and Vivaldi. She has performed with most of Canada's leading orchestras and ensembles. She made her US debut in 2007 with the Brooklyn Friends of Chamber Music Society. More recently, Ms. Lapointe took part in the productions of Verdi's Macbeth and Massenet's Manon, with Opera Lyra in Ottawa ; she sung Beethoven's 9th Symphony with the Quebec Symphony Orchestra, for Maestro Yoav Talmi's farewell concert. She also performed Mozart's Requiem with the Orchestre philharmonique du Nouveau-Monde, under Michel Brousseau in Montreal and Ottawa, and she sang the role of PRINCESSE DE GRENADE in Offenbach's Les Brigands and then L'OPINION PUBLIQUE in Orphée aux Enfers, with the Société d'Art lyrique du Royaume in Saguenay, Québec. In 2013, she sang Mozart's and Verdi's Requiem with the Orchestre symphonique de Trois-Rivières, conducted by Jacques Lacombe. In 2014, she performed again in Verdi's Requiem, this time with the Société philharmonique de Montréal under Miklós Takács. She returned with the Orchestre symphonique de Sherbrooke in 2015, for Beethoven's 9th Symphony, a work she also sung with the Quebec Symphony Orchestra in 2016, under Fabien Gabel. That same season, she performed as a soloist with the Laval symphony Orchestra in Verdi's Requiem, conducted by Alain Trudel.
A renowned artist for her warm and flexible voice, her charismatic presence and versatility, Renée Lapointe is a regular guest soloist in great musical events such as the Festival de Wallonie (Belgium)and the Festival international de Lanaudière (Canada). Ms. Lapointe has toured regularly with world-known guitarist Rémi Boucher with the recital Una Noche en Sevilla which has been recorded under the label "Disques Tout Crin" in Montreal. Another record was released in 2011 : « La saison inachevée » by the Canadian composer Marius Tremblay, in which she is accompanied by pianist Renée Villemaire.
Renée Lapointe has been teaching at the Gatineau music Conservatory since 2007.